Executive Committee for 2022-2025 Triennium
The MWIA Executive Committee are elected at the triennial Congress for a three-year term. Click here for more information on the governance structure of MWIA. Click a name or image for more detailed information about a member of the Executive.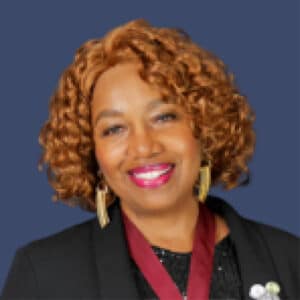 Dr. Eleanor Ann Nwadinobi, MBBS, EMA, FAAC, is the President of the Medical Women's International Association (MWIA). She is also the Co-founder of Every Woman Treaty, a coalition advocating for a global treaty to end all forms of violence against women, and the Member of the Immunization Agenda IA2030 Partnership Council (IAPC).
Dr. Nwadinobi is an independent gender, health, women's rights, and women, peace, and security expert currently working with UKaid as Senior Adviser of the Nigeria Safeguarding Resource Hub. Her career has spanned from working as an anaesthetist in the UK, ECOWAS expert on child trafficking and consultant to the United Nations on girls' education and HIV/AIDS, to a lead researcher on gender-based violence for the World Bank.
She worked with the African Union as the team leader for the experts who drafted the stabilisation strategy for the four countries affected by Boko Haram.
As President of the Widows Development Organisation, Eleanor participated in bringing about State and National legislations outlawing harmful widowhood practices in Nigeria.
Dr. Nwadinobi is the recipient of different Honorary Awards and the author of several publications. She has presented numerous papers at international advocacy forums and scientific conferences.
Her personal profile is featured in Friedrich Ebert Stiftung publication, "The hands that build Nigeria: Nigerian women role models" and The Encyclopedia of WHO is WHO in the Medical Profession in Nigeria 1950-2021
https://en.m.wikipedia.org/wiki/Eleanor_Nwadinobi
https://dr-eleanornwadinobi.com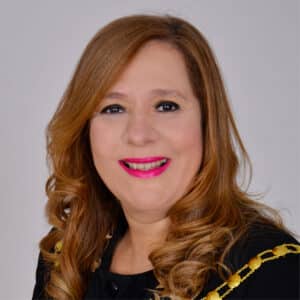 Dr. Amany Asfour graduated from the Faculty of Medicine of Cairo University and has her M.D. and Master's Degrees in Pediatrics. She was a pediatrician at the National Research Centre of Egypt and the founder of the Egyptian Society of Health Awareness for promoting women's health and combating harmful traditions such as FGM and Early Marriage.
Dr. Asfour is the Secretary General of the African Society for Scientific Research & Technology, where her goal is the promotion of African Women in STEM Education (Science, Technology. Engineering and Mathematics). She directed her activities towards Women Empowerment and stressed on equal opportunities for girls and women in education and training.
Dr. Amany Asfour established the African Alliance for Women Empowerment and Afro Arab Network for Women Empowerment. She was elected as Chair of the Human Resources, Science and Technology Cluster at the African Union ECOSOCC (Economic Social Cultural Council). She is the Chairperson of the Egyptian Society of Voice of children with intellectual disabilities and helped in raising funds to establish a special village that provides services to children with special needs.
Dr. Asfour is the recipient of numerous awards from Egypt, Africa, Arab world, Mediterranean Region and other geographic areas of the world.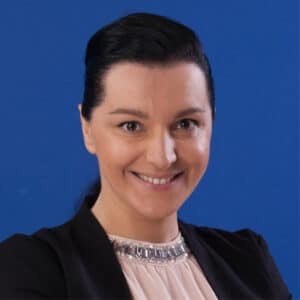 Mariam Jashi MD, MPH, MPA is a senior level policy-maker with 25 years of experience in Global Health, Sustainable Development and Innovative Financing across 26 countries of Europe, Asia, Africa and Middle East.
In 2012-2020 she served as a senior government official in Georgia as the Deputy Minister of Health, Member of Parliament (MP), Chairperson of Independent MPs Fraction, Chairperson of Education, Science and Culture Committee, and Member of Health Committee and Gender Equality Council of the Parliament.
As the President of Leading Group Secretariat on Innovative Financing (2017-2018), Dr. Jashi led high-level meetings of global stakeholders on the margins of UN General Assemblies.  
Since 2019 she is the Global Board Member and Regional Chair for Eastern Europe and Central Asia of the UNITE Parliamentarians Network.
Since 2021 Dr. Jashi is Chairing the Board of Advisors at the Tbilisi Medical Academy.
Her earlier experience includes extensive humanitarian and development work in charge of UNICEF Health Sector and UNAIDS programme in Georgia, Immunization Portfolio at UNICEF Occupied Palestinian Territory and HIV/AIDS partnerships at UNICEF New York. Dr. Jashi served as a health and development expert to UN agencies, GAVI, the Global Fund, World Bank and Curatio IF.
She is the recipient of WHO Award for contribution to Polio Eradication in Europe.
Mason Fellow of Harvard Kennedy School, Dr. Jashi graduated as Master of Public Administration from Harvard University, Doctor of Medicine from DTMU/AIETI, Master of Public Health from Tbilisi State University and holds certificates from Lund University and University College London.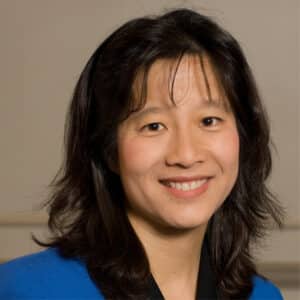 Eliza Lo Chin, MD, MPH is Executive Director and Past President of the American Medical Women's Association (AMWA). In this role, she leads AMWA's strategic vision and oversees AMWA's programs and initiatives.
She is the editor of This Side of Doctoring: Reflections from Women in Medicine and executive producer of the short film At Home and Over There: American Women Physicians in WWI, and is featured in the National Library of Medicine Exhibitions, Changing the Face of Medicine: Celebrating America's Women Physicians and Rise, Serve, Lead! America's Women Physicians. 
She is also Assistant Professor (Voluntary) at the University of California, San Francisco, Medical Director of Watermark by the Bay, and an AMWA Representative to the United Nations Department of Global Communications.
Dr. Chin received her MD from Harvard Medical School and her MPH from Columbia University, Mailman School of Public Health and was a visiting scholar with the Women's Leadership Institute of Mills College.
A recipient of several awards, she is a Master of the American College of Physicians and a Fellow of AMWA. Her interests include women's leadership and mentoring, women's health, geriatrics, medical humanities, and history of women in medicine.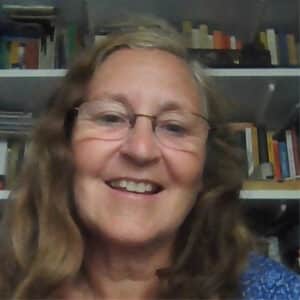 Dr. Elizabeth Lorraine-Lichtenstein is an Anaesthesologist at the Children´s Department of Uppsala Academic Hospital in Sweden.
Since 2019 she has served as the Vice President of the Medical Women's International Association (MWIA) for Northern European region and was re-elected to the position at the 2022 General Assembly of the Association.
In her capacity as MWIA Vice President, Dr. Lorraine-Lichtenstein has delivered statements on "Why Gender matters" at the WHO European Regional Meeting in Copenhagen, at the European Union in Brussels and together with Finnish colleagues has organized Northern European Regional meeting. 
Dr. Elizabeth Lorraine-Lichtenstein has always been interested in gender aspects and has been an active feminist. As a mother of four, she has tried her best to form them into responsible ethical individuals nurturing their individual talents rather than the ones traditionally expected due to their sex. Today they are all interesting adults and moral beings, to which Elizabeth is very thankful and proud, as well as being feminists.
Earlier in her carrier, Dr. Lorraine-Lichtenstein was a board member of the Swedish Medical Women´s Society and currently is the member of the task-force for Sexual and Reproductive Health Rights (SRHR) of the European Women's Lobby (EWL).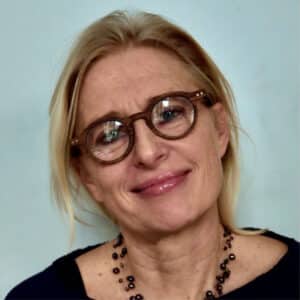 Dr. Edith Schratzberger-Vécsei is the general practitioner and specialist for psychotherapeutic medicine, Lecturer at the Medical University in Vienna and Head of the Academy for Psychotherapeutic Medicine in Vienna.
She received MD degree from the University of Innsbruck, School of Medicine, completed studies in Philosophy at the Universites of Salzburg  and Vienna, and graduated with Master of Arts in Philosophy from the University of Vienna.
Dr. Schratzberger-Vécsei has practiced in the Trauma Center and Regional Hospital Hallein in Salzburg (Austria), Medical College Hospital Trivandrum (India) and has completed training in psychotherapeutic medicine in Upper Austria. She has also served as a Consulting physician in psychotherapeutic medicine.  
Dr. Schratzberger-Vécsei is the President of the Austrian Medical Women's Association (Organisation der Ärztinnen Österreichs) since 2006 and Member of the Observatory on Violence Against Women since 2020.
In 2019 she was elected as the Vice President for the Central European Region of the Medical Women's International Association and re-elected to the position for the 2022-2025 triennium.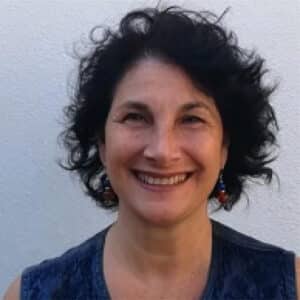 Dr. Concetta Laurentaci graduated from University of Bari (Italy) as a medical doctor (MD) with post-graduate specialization in Physical Medicine and Rehabilitation. She also holds a Master's degree in Neurological Disease Rehabilitation, Master's degree in Sport Medicine and graduate certificates in Homothoxicology and Homeopathy, and Musicotherapy.
Dr. Concetta Laurentaci works as a Physiatrist at Matera Health Authority of Madonna delle Grazie Hospital with high professional specialization in dysphagia and neuropsychological rehabilitation.
Her pedagogic experience includes teaching of Physiotherapist degree students at the University of Bari-Tricarico and Musicotherapy specialization at Matera Music Conservatory. For many years she has been involved in organizing national congresses and leading training courses for physicians, health professionals and high school students.
Dr. Laurentaci closely collaborates with equal opportunity institutions of the Municipality of Matera and Basilicata Region on Gender Medicine and strategies to combat gender-based violence. She is a member of the Matera Medical Association's Commission on Gender Medicine.
For 6 years Dr. Laurentaci served as the National Secretary of the Italian Women's Medical Association and is the national referee for Gender Medicine of the Italian Society of Physical Medicine and Rehabilitation.
Dr. Connie Newman is an endocrinologist, Adjunct Professor of Medicine, New York University Grossman School of Medicine, NY, USA, Past President of the American Medical Women's Association (AMWA) and a member of the FDA Endocrine and Metabolism Drugs Advisory Committee.  Committed to health and gender equity, Dr. Newman writes and lectures on health equity, challenges facing women in medicine, physician burnout, and sex and gender- based healthcare. She is a co-editor of the medical textbook "How Sex and Gender Impact Clinical Practice: An Evidence Based Approach to Patient Care", Elsevier, 2021. 
Dr. Newman is a strong advocate for reproductive rights.  She serves as Chair, Board of Directors of Planned Parenthood of Northern, Central and Southern New Jersey, a member of the Planned Parenthood Leadership Council, and former member of the Planned Parenthood National Medical Committee and Global Advisory Board.
She has expertise in lipids, obesity, and diabetes and has significantly contributed to cardiovascular medicine through her work on statin safety. She has been honored by the AMWA Bertha Van Hoosen Award, a Mastership in the American College of Physicians, and a Fellowship in the New York Academy of Medicine.
She is married and has three children.
Nelci Zanon Collange MD, PhD, IFAANS is a consultant paediatric neurosurgeon at Federal University of São Paulo (UNIFESP) in Brazil since 1995 and the Head of the CENEPE Group (Paediatric Neurosurgical Centre) since 2002. She completed her neurosurgical training in Rio de Janeiro, Brazil and fellowship in Paediatric neurosurgery in Marseille, France, under the supervision of Prof. Maurice Choux. Congenital central nervous system malformations are the main clinical area of her interest, while in research she focuses on surgical simulation, foetal spina bifida repair, non-invasive intracranial pressure monitoring, women in neurosurgery, leadership and gender equity.
Dr. Collange is the President-elect of the Brazilian Society of Women in Medicine (ABMM – http://www.abmmnacional.com), Current Chair of the Education Committee of the International Society of Paediatric Neurosurgery (ISPN), Member of the Paediatric Neurosurgical Committee at the World federation of Neurological Societies (WFNS) and the Member of the Medicine Academy of São Paulo (Academia de Medicina de São Paulo).
She is the Past Chair of the Paediatric Neurosurgical Committee at WFNS (2017-2021), Founder and coordinator of the Women Group in Neurosurgery at the Brazilian Society of Neurosurgery (Sociedade Brasileira de Neurocirurgia, 2011-2021), Past President of the Brazilian Society of Pediatric Neurosurgery (SBN Ped, 2013-2015) and Vice Chair of the Women In Neurosurgery Committee – WIN at WFNS (2013-2017).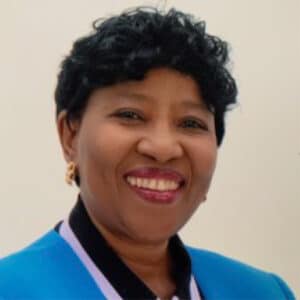 Dr. Claribel Abam, MBBS, MPH is a medical doctor, Public Health Consultant, and author, with a 42-year career in epidemiology, health management, primary health care, public service, and leadership in Nigeria. She is actively involved with advocacy through professional and non-vocational organizations including the Medical Women's Association of Nigeria (MWAN) and the Nigerian Medical Association (NMA). She is currently a research consultant supervising research projects for various agencies and has several publications in peer-review journals.
She was the Director, Disease Control and Director Public Health for Rivers State Government (2000-2010) where she anchored the World Bank- and ECOWAS sponsored program on Malaria Elimination. As pioneer Executive Secretary/Chief Executive Officer of the Rivers State Primary Health Care Management Board (2011-2015), she successfully supervised 350 primary health facilities.
As National President of MWAN (2007-2009) she established the Technical Working Group which aligned MWAN activities with key government health policy and plans. MWAN established partnership with National Primary Health Care Development Agency (NPHCDA) on immunization and collaboration with Health Development Partners like IPAS, United Nations Population Fund (UNFPA) who sponsored workshops and training programs for members. MWAN Technical Working Group made presentations at the NGO Forum of the 58th and 59th Sessions of the United Nations Commission on the Status of Women in New York. MWAN now has ECOSOC status.
She served on Ethics and Resolution Committee (2011-2022) and Finance Committee of MWIA. She has actively participated in all MWIA and NEAR regional triennial Congresses since 1998.
Dr. Abam is the Vice President Near East and Africa Region for the MWIA 2022-2025 triennium.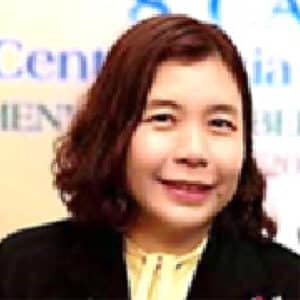 Dr. Darunee Buddhari graduated from the Faculty of Medicine, Siriraj Hospital, Mahidol University in 1995. In 2001-2003 she obtained a Diploma of Thai Board of Rehabilitation Medicine from the Faculty of Medicine, Ramathibodi Hospital, Mahidol University. In 2015 she also graduated from the Faculty of Medicine, Thammasat University with a Diploma in Clinical Statistics and Clinical Epidemiology.
Dr. Buddhari is leading the Foreign Affairs direction of Thai Medical Women's Association (TMWA) Under The Royal Patronage of Her Majesty The Queen.
In 2022 she was elected as the Vice President of the Medical Women's International Associations for Central Asia. 
Dr. Buddhari has also worked as the Medical Research Scientist and the Head of Field Station at Kamphaeng Phet-AFRIMS Research Unit. Area of her Interests include Clinical Research and Epidemiology, Virology and Rehabilitation Medicine.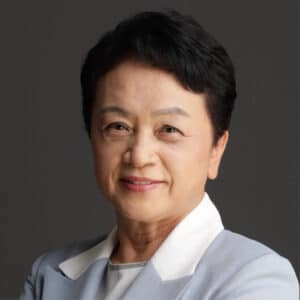 Dr. Bong Ok Kim is a physiatrist, Professor Emeritus of Rehabilitation Medicine, Chungnam National University College of Medicine, Daejeon, Korea. She is the Past President of the Korean Medical Women's Association (KMWA) and Korean Academy of Rehabilitation Medicine. Currently Dr. Kim is a Chairperson of the National Bioethics Committee and the National Institute for Bioethics Policy of Korea, a Governor of Korea District of Cinvitan International and a CEO of Incheon Himchan General Hospital in Incheon, Korea. 
Dr. Kim served as a Chairperson of LOC of the 29th International Congress of MWIA in Seoul, Korea in 2013 and a Chair of the Scientific and Research Committee of MWIA during 2013-2016. She was recognized as a honorary member of MWIA in 2019.
She has been a strong advocate for the right of people with disabilities and victims of the sexual violence in medical settings. She has been honored nationally with a decoration for her    significant contribution in empowering young women and enhancing gender equality in medicine and with Samsung Creative Woman Award for her dedication to pioneering the specialty of Rehabilitation Medicine in Korea and innovative hospital management during the early phase of Covid-19. 
She is married and has two grown up children.