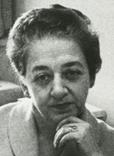 Dr. Alma Dea Morani (USA)
MWIA president from 1972-1974
The Morani fund was established 1993 and can be used to update and modernise the secretariat office.
Morani fund specific criteria:
An application can be submitted at any time by the MWIA Secretary General
The measures funded should modernize and support professionalizing MWIA administration processes and improve secretariat´s efficiency in a sustainable way.
A detailed proposal and draft budget should indicate the use of the fund with a maximum amount of 2000 CHF that can be asked for every 3 years. No funds should be used on travel, meals, or honoraria to the SG or computers or other non-sustainable gadgets. The fund could be used however to fund an admin supporting the Secretary General in her admin duties.
Please apply for the fund by using the following application form:
For questions, clarifications, submission of the form, please contact the EWL Secretariat through E-mail: secretariat(add)mwia(dot)net